Donor Advised Fund - help homeless
How can my Donor Advised Fund help the homeless
A Donor Advised Fund (DAF) is a giving vehicle that allows donors to make a charitable contribution, receive an immediate tax deduction and make grants from the fund over time.
Backpack Bed for Homeless is a registered 501(c)3 charity and can receive charitable contributions from Donor Advised funds. Your Donor Advised fund can make an immediate practical difference to the homeless people in your local community.
Backpack Beds SAVE LIVES.
"In 2007 I wondered why homeless people (who don't have shelter and are sleeping on our streets) were not given bedding to keep them alive.
This led to my wife Lisa and I designing the Backpack Bed and starting the charity Backpack Bed for Homeless in Australia. The Backpack Bed program has since been used in 8 countries and saved thousands of lives.
In 2017 Backpack Bed for Homeless Inc. was founded to help homeless across the USA.
The Backpack Bed is an emergency bed - it looks like a backpack, weighs only 6.6lbs and rolls out into an all-weather protected bed with mattress. The Backpack Bed has been study proven to improve dignity, sleep, health, warmth, comfort and safety. It has been awarded 7 International product Design awards.
People like you can make a difference by donating to help fund more Backpack Beds for our friends on the street for people who need your help tonight."
Tony Clark
Founder & Chairman, Backpack Bed for Homeless Inc.
How The Homeless Backpack Bed Program Works
Backpack Bed for Homeless partners with homeless services across America to distribute our study proven Backpack Beds to street sleeping homeless without shelter.
Backpack Bed for Homeless is a 501(c)3 charity that relies on the support of Americans to help give back safety to people living on the streets. Your Donor Advised Fund can help homeless survive a night on the streets by protecting them from the harsh weather climates that can happen at night.
You can either nominate a local homeless program or ask us to recommend one that needs Backpack Beds in your area.



Fabric + Mattress 6ft 3" x 22"

Protects against winter chills

Stop bites on hot summer nights

Adjustable shoulder & chest straps
4 pockets - store over 44lb
552,830 Americans are homeless and needlessly suffering tonight
Facts About Homelessness in the USA
Every night thousands of Americans are putting their life at risk by sleeping on the street. No ones thinks they will end up homeless and can be traumatic when it does happen.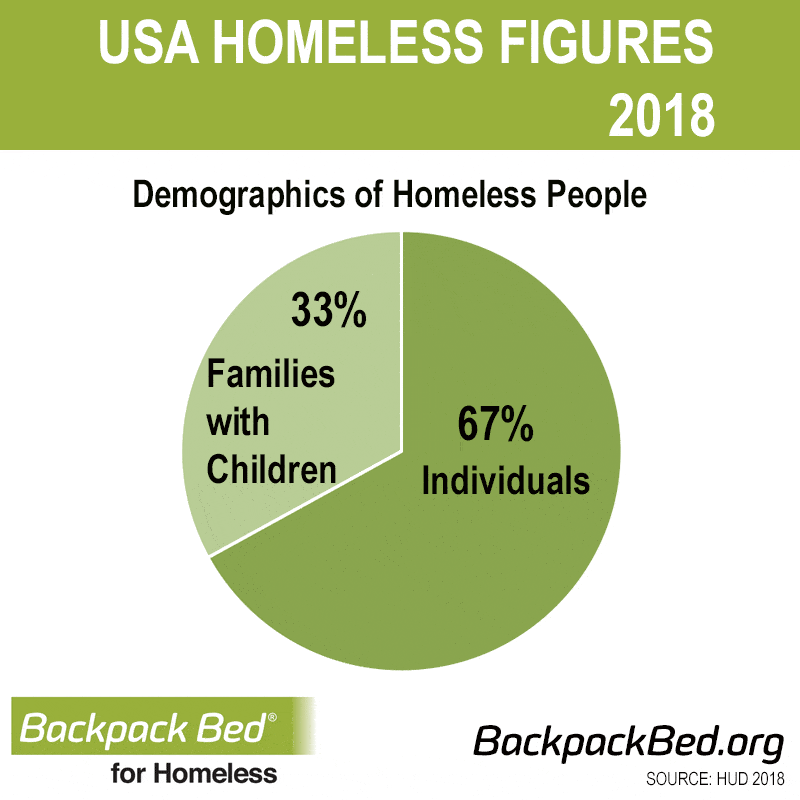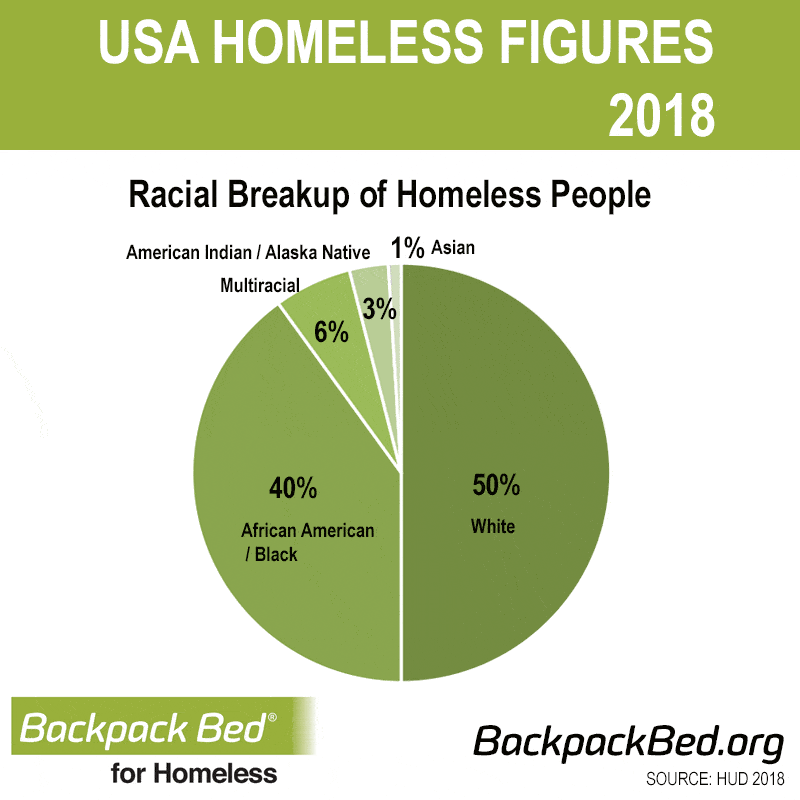 Homelessness can be caused by
One or a combination of these factors can lead to someone becoming homeless. Sometimes homelessness can occur due to someone moving to a new area and losing their job, and not having any support to help. Other times it can be something as simple as not being able to afford housing.
Homelessness can affect anyone at any time. The tiniest life change can cause someone to lose everything they have in a blink of an eye. It's a terrible place for anyone to be in as you will never know what will happen to you on the streets.
Whatever the reason - Americans sleeping on our streets need immediate shelter to survive.
You can make a difference to someones life today
Please contact is to discuss how a grant from your Donor Advised Fund (DAF) can help homeless people in your local community.
How your donated Backpack Bed makes a difference