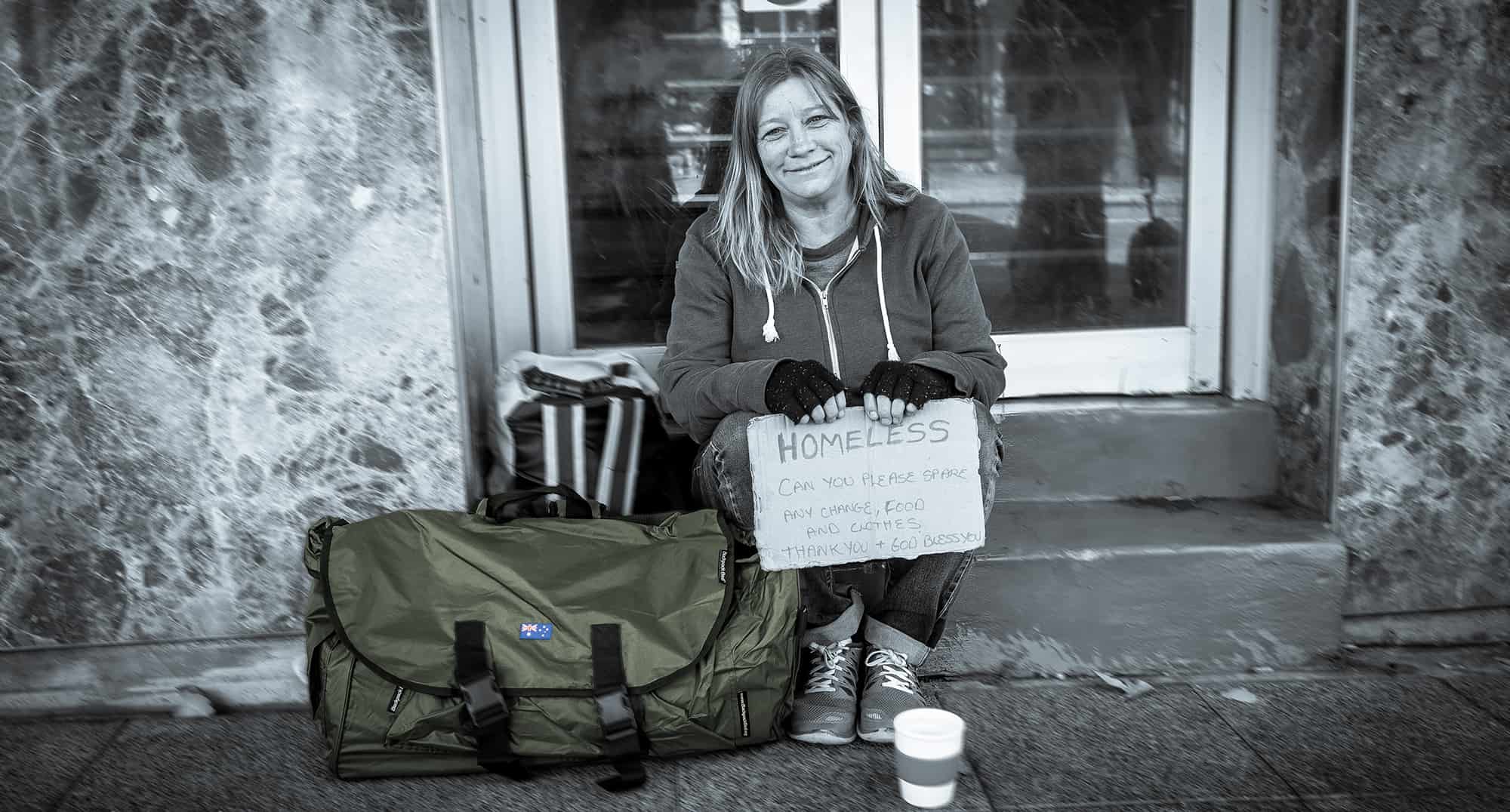 People sleeping on the street or sleeping rough are the most visible homeless people.
Sometimes people are living on the street as there are no other options available to them (e.g. crisis accommodation is full) or other problems (such as mental health or PTSD) make it difficult for them to access services.
These people do not always have a permanent place to sleep. They often are forced to find cardboard and other discarded items to sleep on. This greatly impacts their dignity, quality of sleep and health.
Backpack Beds are dignified emergency bedding

Fabric + Mattress 190cm x 55cm

Protects against winter chills
Stop bites on hot summer nights

Adjustable shoulder & chest straps

4 pockets - store over 20kg

By providing people in this desperate situation with a Backpack Bed their day to day life can be immediately impacted.
They are also connected with a local homeless service that can assist them to find longer term solutions.
| | | | |
| --- | --- | --- | --- |
| Dignity | Undignified to: look for cardboard. carry obvious bedding | Portability with dignity - looks like a Backpack rolls out into an outdoor bed. | Rather than using energy worrying about how to find cardboard tonight - people can focus on solving other problems to get back on their feet. |
| Non discrimination | Don't want to look homeless. This can lead to discrimination. | Backpack with adjustable ergonomic straps. No external branding. Darker colour + easy to clean. | I no longer have to carry garbage bags of blankets just to keep warm... people don't even look at me when I get on the bus |
| Privacy | Anonymity while sleeping. | Topsheet covers full body Dark mesh on ventilation windows. | Women / vulnerable can change their sleeping patterns - sleeping at night again, as they can be anonymous inside a Backpack Bed. |
| All weather conditions | Need to be warm, dry, avoid insects, comfortable. | 3 mosquito mesh vents (head + foot + chest). Full body loose mosquito mesh. Waterproof fabric to 5,500mm (lab tested to international standard). Tape sealed main seams (like on a ski jacket). | Stay dry & warm in rain. Head & foot vents can be left open in rain ensuring airflow. Loose mesh - people can sleep near waterways without Bites and subsequent skin infections. |
| Health & sleep | Stay healthy & get adequate sleep. Wet and dirty bedding is unhygienic and can lead to illness and even hypothermia. | Sleep on 190cm (75?) built-in insulated fire retardant mattress. | Protected cocoon of warmth. Insulated mattress stops ground cold. Less illness ? improved physical and mental health. Other bedding is kept dry inside. |
| Lightweight | Carry bedding and possessions - sometimes all day. | Weighs 3kg (inc. mattress). Ergonomic and adjustable padded backpack straps with chest strap. | Comfortable to be carried all day by different body shapes And sizes. |
| Safety | Personal & product safety (fire-retardant). | Fire retardant fabric (lab tested to international standard CPAI-84) Fire retardant mattress | Clients have time to exit the Backpack Bed if fire is used as a form of violence while they are sleeping. Fire retardancy stops rapid flame spread seen in regular camping equipment. |
| Security | Security of belongings. | Hidden lockable pocket (with supplied key lock). 4 additional storage pockets for belongings. | Blankets + belongings stored inside - kept clean and dry. |
| Cleaning | Easy to keep clean. | Mildew resistant fabric & mattress. Very tough oxford woven weight balanced fabric. | Open the mattress cover and shake out any dirt. Wipe down with a damp cloth. |
| Setup | Easy to use. May need to move in a hurry. | Quick & easy setup /packup. All in one unit. | Easy to use regardless of any physical or mental impairment. No parts to loose. Does not make a permanent camp. |
| Quality | Needs to be used everyday for possibly a long period of time and still function to the highest quality | Tested to 47 international standards for safety & quality (including no heavy metals). Strong street tough materials. Reinforcing stitching used on stress points. | We know of instances where the same Backpack Bed was used over a 4 year period and still functioned as new. |